Pokhara Travel
The Internet Traveler's Guide to Pokhara's
hotels, restaurants, travel agents, tour guides and more.
And because there is so much more to Pokhara then business
we also focus on Local life, Tourist life, Local Arts & Expressions!
Restaurants in Pokhara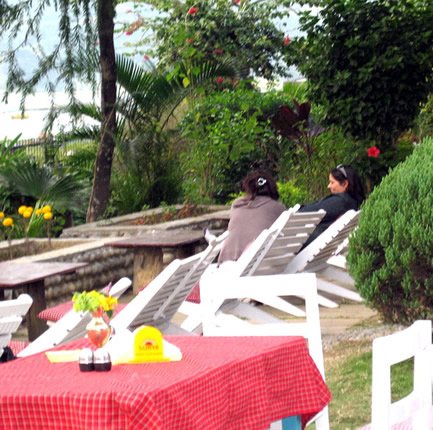 Eating in Pokhara is a wonder of its own. Many restaurants offer a fabulous view of the lake or the Himalayas, a few have great views of both. Most have good food at bargain prices. A few have food so good its worth writing home about.
Many tourists find they can make a day of it just strolling around meeting new friends, eating breakfast in one restaurant, having tea in another, stopping by for cinnamon rolls or cake at a bakery before sitting down to a leisurely lunch that takes up the better part of the afternoon. In theory there should be time for a short hike or a boat ride on the lake before dinner... but if the atmosphere is right, and it often is, you may decide to just play cards until dinner rolls around.